Ever since I read the
Increadible Book Eating Boy
I have been hooked on
Oliver Jeffers
. Well I SHOULD say
we
have been hooked on Oliver Jeffers, because my daughter loves his books just as much as I do, which normally makes it a joy to experience together. I love the quirky little characters and the storytelling that manage to squeeze in so much goodness in a usually rather short story. The graphic language is always very intriguing and always seem to get both me and my daughter very inspired. Oliver Jeffers have just released a new book called
The New Jumper
. The Hueys are a large group of egg-shaped creatures who look, think and act identically. When one of the Hueys, Rupert, breaks free from conformity to knit and don a fancy orange jumper, the other Hueys are shocked.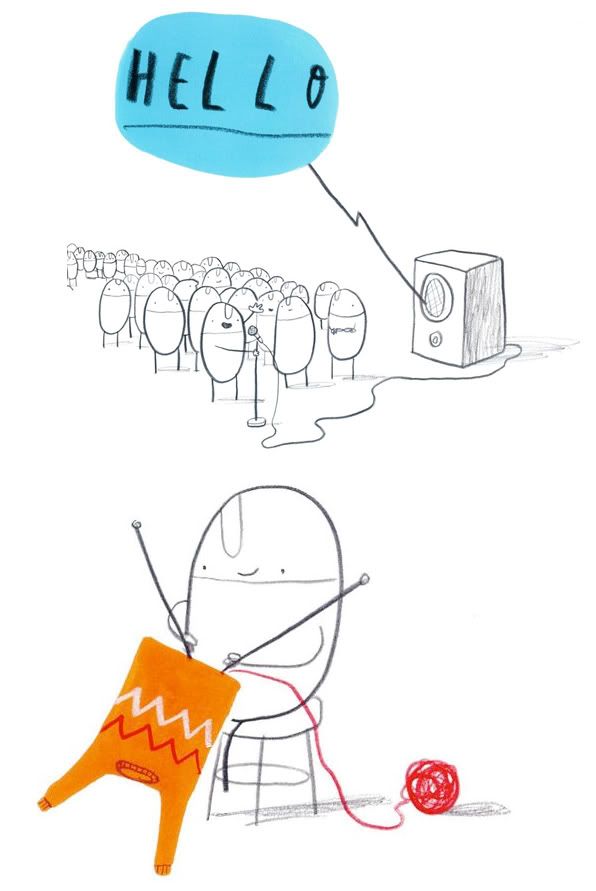 This is a wonderful book about individuality, and kids and parents alike will enjoy the story about how Rupert eventually gets the other Hueys to realize that Rupert's jumper is in fact rather lovely.
Jeffers's illustrations and words are stripped back to complete simplicity in this book, to wonderful effect. If you are in Melbourne for this Mother's Day you can have a chance to meet up with Oliver Jeffers at Dymocks for an Afternoon Tea. He will be talking about his work while you and your kids can enjoy a free cupcake and hot drink.
More info on the event here.