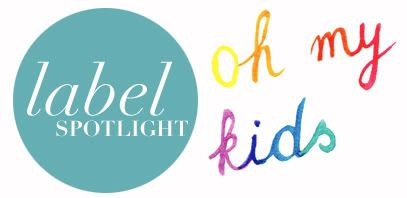 Meet
Oh My Kids
. A young label created by
Leen Vanbroekhoven
. It is literally being born as I am typing this, and that is what makes it even more exciting. I think this label has a huge potential and I wish Leen the very best on this new adventure she is taking on. I am loving this kind of gung ho approach. You get an idea and you run with it. I think this is how the best labels get made. You discover something you enjoy to do and you do it well. I asked Leen to do a short introduction of herself and her label, and here is what she wrote.
****************
I'm Leen, mother of two, Annabel (3,5) and Oscar (1).
Oh My Kids
is a very young label. My first collection is being created as we speak.
8 years ago I got a college art degree as a graphic designer, but never used it professionally. After school I went straight to my current job as a Zara Home store manager. Over the years I've always dreamt of running my own business, and after lots of ideas and dreams, Oh My Kids just came along unexpected.
Last summer my daughter and I did a DIY project, printing fabric, making it into a skirt. As I have no training in sewing what so ever, and hardly knew where I could buy fabric, I just go some plain white cotton and started dyeing and printing it with handmade stamps to make for an interesting design. Peoples reactions to Annabel's new clothes were overwhelming and so I kept going, trying to come up with more interesting shapes and patterns.
Last December, when I saw an open call for designers to enter a fair I hardly hesitated…I got selected, which meant I had to have a collection ready within two months. We're half way right now!
If you'd told me a year ago I would be designing my own kids label right now I wouldn't have believed it, but looking back it actually seems quite natural to have landed in this discipline, as it combines all my creative loves such as illustrating, photography, graphic design, fashion,…
Now its just a matter of finding my way in a new world in a really short time. If all goes to plan, my first limited collection will be for sale at the end of March, through a platform for young designers
www.deinvasie.be
****************
I am so looking forward to seeing this new collection soon! In the meantime you can read
Oh My Kids blog
and have a look behind the scenes.